Cyclones Idai and Kenneth
After a powerful cyclone made landfall in Mozambique in the night between 14 and 15 March, TSF teams deployed to the coastal area of Beira to provide communication means to the affected population.
Context: Cyclone
Start date: 15/03/2019
End date: 15/05/2019
Areas of intervention:
Sofala
Manica
Cabo Delgado
Activities:
Support to Humanitarian Coordination
Humanitarian Calling Operations
9 Coordination Centers for Humanitarian Emergency response with 90+ humanitarian organisations supported
1370+ devices connected and 1110+GB exchanged for the humanitarian coordination
26 Humanitarian Calling Operations
89% First calls since the disaster
2549 beneficiaries
Context
On the night between 14th and 15th March 2019, Cyclone Idai hit Mozambique's coastal region bringing strong winds and heavy rains to the provinces of Zambezia, Sofala, Manica and Tete. The cyclone made landfall in the area of Beira, the fourth largest city in the country. The official death toll has been confirmed at over 1,000 deaths and more than 1,523 people have been injured. The number of internally displaced people (IDPs) reached nearly 146,000. For over a month many areas remained without electricity and fully operational mobile networks. The UN estimated that a total of 1.85 million people were in need of humanitarian support.

In addition to the direct consequences of the Cyclone itself, the effects of the torrential rains and the floods have been devastating for the population, leaving the provinces of Sofala, Manica, Zambezia and Tete devastated. Beira City (Sofala Province),  has suffered extensive damage with almost 80 per cent of the economic infrastructure destroyed. Across the whole country, more than 711,000 hectares of crops have been damaged.
Only one month after, on 25 April, another powerful cyclone, Kenneth, battered again the Mozambican coastal region around the city of Pemba, 1,000km north of Beira, in the Cabo Delgado province. While the impact has been less devastating than Idai, strong winds of up to 200 km/h and torrential rains caused severe damages in different areas around Pemba. 35,000 houses have been partially or totally destroyed and 14 health facilities impacted. At least 38 deaths have been confirmed and over 20,000 have been displaced.
Deployment
TSF had been monitoring the situation in the area since the formation of the cyclone in early March. Due to its high intensity, our team deployed from our Headquarters a few hours after the impact to provide communication means to the affected population.

On their arrival in the capital Maputo on March 16, the team tried to reach the main affected area which was only accessible by air: Beira. TSF was among the first humanitarian organisations reaching the city on Sunday morning.

From Beira, TSF's operations expanded to other affected areas, where TSF teams were deployed to assist both the population and the humanitarian coordination. The teams crossed the provinces of Sofala and Manica, concentrating their efforts on particularly affected areas that are were difficult to reach. One team operated around the community of Matarara (Sofala and Manica province) and another one around the city of Buzi (Sofala province).

In Pemba, our team arrived just 24h after the impact of Cyclone Kenneth on April 25. Strong of its presence in the field for more than a month, TSF mobilised its local contacts to gather as much information as possible on the humanitarian needs in the area. With the help of other humanitarian actors present on the ground, our team deployed also by air to isolated communities like Macomia and the island of Ibo, 200km north of Pemba.
Support to Humanitarian Coordination
On March 17 the first coordination center was set up in Beira airport and TSF provided the humanitarian actors already present with the first connection for the coordination of their operations. While the number of humanitarian workers in Beira was increasing, TSF offered to the coordination team, led by UNDAC and OCHA, a dedicated connection to support the coordination between all the parties.

Another important coordination center was identified in Matarara, 200km away from Beira. This hub coordinated food and water distribution but also provision of sanitation and medicines kits and other items (such as mosquito nets, clothes…) to 8 different communities in the provinces of Sofala and Manica  where more than 8,100 people were in need of vital assistance. Therefore TSF deployed a connection in order to provide the volunteers and humanitarian actors working onsite with Internet, allowing them to coordinate their operations and improving their efficiency.

On March 31, TSF set up a connection to support NGOs operating in Buzi and to facilitate the installation of the Samaritan's Purse field hospital serving as center for cholera treatment and water purification. This connection allowed more than 35 humanitarian actors from Samaritan's Purse and Médecins Sans Frontières (MSF) to coordinate their efforts.

As the humanitarian response entered its recovery phase, more and more organisations decentralised their coordination from Beira to set up their offices closer to the most isolated areas. That is the case of MSF in Mafambisse (50km of Beira) where TSF established another connection for their operation office. From there, MSF's teams coordinate a field hospital, a cholera treatment unit and organize repairs and restoration of the local health centres. Prior to  TSF's intervention and support, MSF staff had to travel 30mn by car to get Internet access.

In the aftermath of Cyclone Kenneth, TSF installed two satellite connections in Pemba, one at the airport to support the Instituto Nacional de Gestao de Calamidades' (INGC) relief operations, and one at the UNOCHA coordination centre. A third temporary connection has been set up in Macomia, to support a meeting of the President of Mozambique with the humanitarian coordination teams active on the ground.



At the end of the mission, TSF handed over three VSAT kits, to INGC to enhance their preparedness to any other similar emergency in the country. Before leaving the country, our teams led a capacity building workshop for INGC engineers to ensure they have the necessary knowledge to install and deploy the equipment. This training allowed INGC teams to be better prepared to respond to future emergencies in the country. 

Throughout the whole mission, satellite equipment has been made available to several local and international organisations to facilitate and speed up their operations. In total, the connections provided benefited more than 90 humanitarian organisations such as: UN, IFRC, WFP, MSF, Team Rubicon, ICRC, COSACA, SOS Attitude, UK AID, Convoy of hope, Samaritan Purse, IOM, FAO, Care, UNICEF… as well as the local government staff of the Instituto Nacional de Gestao de Calamidades (INGC).
Humanitarian Calling Operations
In the first weeks, TSF teams conducted Humanitarian Calling Operations (HCO) in schools reconverted as temporary shelters in and around the city of Beira. Equipped with satphones, they provided them with free calls and Instant Charging.

Many people had lost their phone during the flooding or during their evacuation. Those who still had their phones were not able to charge them or to buy credit. Hence, TSF HCO operations were essential to reconnect with their loved ones, most of them for the first time since the disaster.

As the water was receding in the most flooded areas, TSF teams separated to cover 2 extremely affected areas: Matarara (province of Manica, accessible by road) and Buzi (province of Sofala, accessible by air).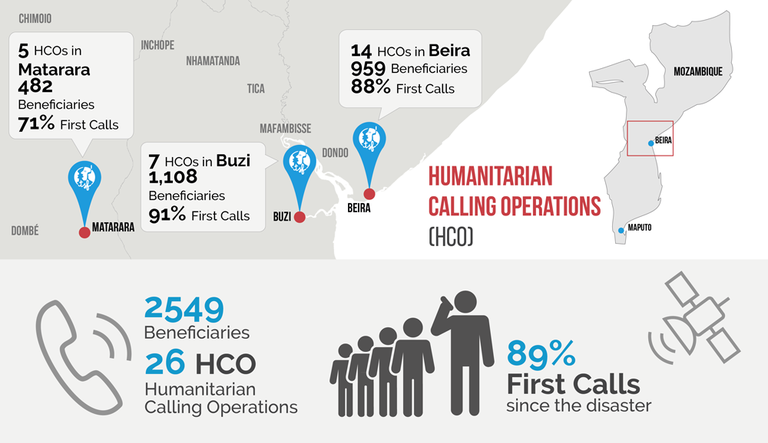 In total our teams conducted 26 HCOs in response to Cyclone Idai.