Nearly 70 children of all ages benefited from the activities provided in both centres. These were designed to offer them playful moments while combining learning and a responsible use of new technologies. They are in line with the work of the IT Cup Centre during the school year: to offer digital workshops for young students in Miarinarivo.
Every day had its programme, there was something for everyone! Whether it's writing an e-book with Book Creator, telling stories with 3D characters and the Toontastic 3D app, watching French movies to start a debate among young people... There were plenty of reasons to learn while having fun! The activity leaders of the Centres are resourceful to combine activities and new technologies.

Transforming programming into a giant board game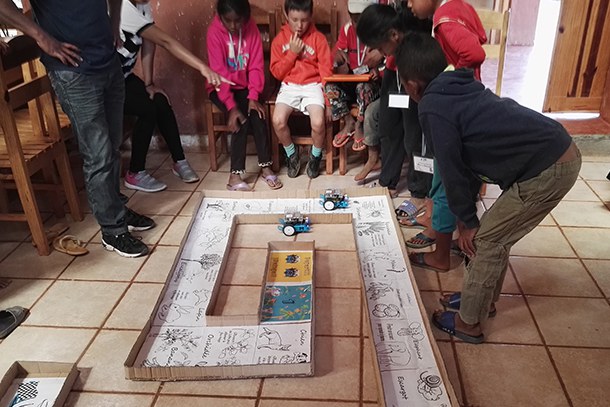 Traditionally, the Goose Game is a board game where players move pieces according to the result of the dice. At the IT Cup Centre, our passion for new technologies replaced the pieces with mBots. The children made the little robots move based on the result of the dice and following the game board. They are thus introduced to programming by defining the path of the mBots and their actions.
Exploring the city differently with GeoCaching and Open Street Map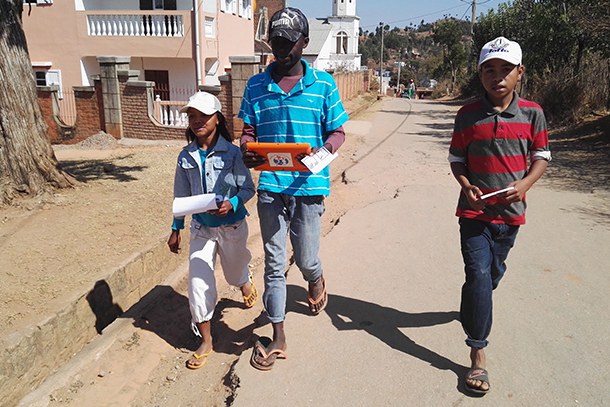 Holidays are a good opportunity to go on an adventure thanks to a treasure hunt. Before starting, the children were introduced to OsmAnd, a map and navigation application, which uses the maps of Open Street Map. Then, the participants started looking for clues in Miarinarivo. In groups and equipped with a tablet containing the geographical data of the hiding places, they had to find them all along their course. Once they gathered all the clues, they could guess the mystery word and win this GeoCaching game. A great initiative to discover the city, be challenged and learn how to use a free mapping software!

"More often than not, free is considered as a thing with no guarantee or value in Madagascar. Whereas the free spirit is the faculty to share and to have free access to the data. In the field of cartography, the data is still very difficult to access and has always a cost. It is therefore important to use free mapping to have access to it. Open and free data is important for the development of each entity, person, organization, State to meet their needs and expectations." Ntsou, trainer at Open Street Map.

With the end of the holidays, the students will find soon their way back to school. The IT Cup Centre will continue to offer extra-curricular activities throughout the year to all children and young people in Miarinarivo: the technical club, mapping workshops, programming, board games... During the school year as much as during the holidays, the IT Cup Centre continues to play its dual role: introducing digital tools and promoting their helpful and responsible use, in connection with the local issues of the Itasy region.