Balkan Migration Crisis
The migration crisis at the European Union border between Croatia and Bosnia is worsening. TSF has started its operations in collaboration with the International Organisation for Migration (IOM) to provide internet connectivity in the Bira shelter opened by IOM in October 2018.
Context: Migrant Crisis
Start date: 01/11/2018
End date: ongoing
Areas of intervention: Bihać, Velika Kladusa
Activities:
Connectivity for population
Support to humanitarian coordination
17 890+ devices connected since November 2018
~18.94 TB of data exchanged / month
15+ organisations supported
50+ humanitarian actors working at the shelter
27 access points to cover 22,000 m²
Context
More than 50,000 people have entered Bosnia and Herzegovina since 2018. According to the United Nations High Commissioner for Refugees (UNHCR), currently there are at least 7,200 migrants in the country. As migrants and refugees try to reach their destination across the border in northwest Bosnia to enter Croatia, Croatian police have increased checks and deportations to Bosnia. In October 2018, the International Organization for Migration (IOM) opened a center for migrants at the Bira factory in Bihać.
Deployment
After an evaluation conducted by our IT experts in September 2018, TSF started a collaboration with the IOM in November of the same year, for a project which aims to provide humanitarian means of communication to migrants and refugees received in the center of Bira in Bihaćet to the humanitarian actors who work there.
The project consists in improving the coexistence of migrants, refugees and the local community by offering a free internet connection with WI-FI access to allow migrants and refugees hosted in the 20,000m² factory to maintain frequent contacts with their relatives. The system also benefits 50 local and international humanitarian actors from different organizations such as IOM, the United Nations Refugee Agency (UNHCR), Médecins Sans Frontières (MSF), the Jesuit Refugee Service (JRS) and the Red Cross.
For this same reason, TSF was present at Velika Kladusa until June 2019 to provide the Internet connection necessary for the work of humanitarian actors on site, especially for the IOM.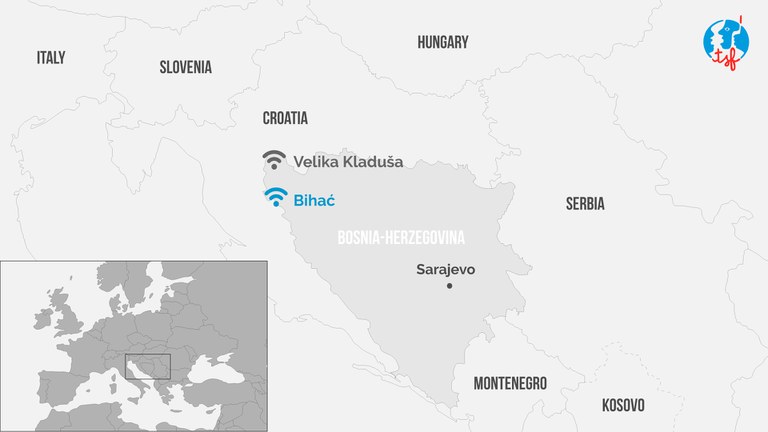 Testimonies
"Through my work with migrants I realised that they appreciate and need the internet connection more than any other service, because it's their connection with the families left behind." - Amira Hadzimehmedovic, Manager of the Bira centre for IOM in Bosnia
"Internet is also pertinent in data collection which is essential for humanitarian organisations. For instance, we collect information with online surveys on the beneficiaries' satisfaction with regards to assistance given. In addition, social media is a great source of information for communities, and it is a useful way to get in touch with other aid agencies and hold them to account." - Amira Almakzomy, Project Assistant for IOM in Bosnia