Beirut port explosions
TSF deployed a team to Beirut in collaboration with the United Nations Disaster Assessment and Coordination (UNDAC) teams and the United Nations Office for the Coordination of Humanitarian Affairs (UNOCHA) to provide reliable communications in the area of the disaster.
Context: Explosion
Start date: 07/08/2020
End date: 31/03/2021
Area of intervention: Beirut
Activity:
Support to humanitarian coordination
Emergency call center
Action cofinanced by the New Aquitaine region.
+ 12,000 people assisted
+ 5,000 requests treated 
89% of beneficiaries declare having received psychological support
13,897 calls
839 hours of communication
144 humanitarian workers connected to the system 
257 NGOs supported
Context
On Tuesday 4th of August, two massive explosions took place at the port of Beirut, in Lebanon. The accident caused at least 180 deaths, and over 6,500 casualties, forcing another 300,000 people out of their homes. The number of sudden casualties requiring urgent assistance has overwhelmed the national healthcare system, which was already struggling to treat COVID-19 patients. In addition, the country is plunged since several months in a deep economic crisis, in which Lebanese people as well as around 1 million refugees hosted in the country have to deal with poverty, daily power cuts, and limited public healthcare.
Deployment
On 7 August, TSF deployed a team to Beirut in collaboration with the United Nations Disaster Assessment and Coordination (UNDAC) teams and the United Nations Office for the Coordination of Humanitarian Affairs (UNOCHA) to provide reliable communications in the area of the disaster. 

TSF connections facilitated the coordination of UNDAC's search and rescue teams and assessment operations, aimed to assist the affected population. The assessments included not only an evaluation of the damages caused by the explosion, but also the environmental consequences and risks linked to the chemicals released during the accident, which threatened the health of Beirut's inhabitants.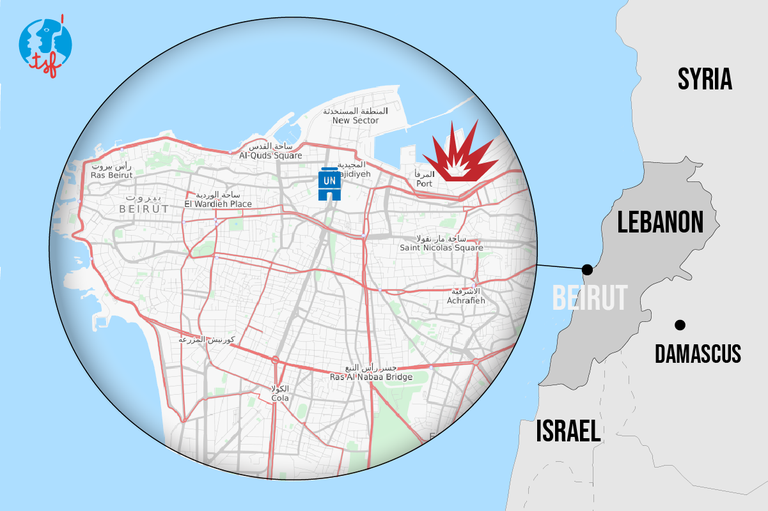 Call center for the disaster victims
In collaboration with the local organization Live Love Lebanon, and the NGO consortium Beirut Relief Coalition which coordinated the operations of 257 NGOs, TSF set up a call center with a real-time assistance request system (WhatsApp bot), which allowed families affected by the explosion to request assistance and be put in touch with the appropriate NGOs to respond to their needs (in particular food, medicine, reconstruction assistance, clothing, hygiene, and financial assistance).
Each request for assistance was processed by a team in charge of analyzing it and calling the beneficiary back for additional information according to the need. Another team, a support unit made up of specialized people, was responsible for handling requests and forwarding them to partner NGOs according to their areas of intervention, their capacities and their zone of intervention. Thanks to a simultaneous calling system, this unit was able to handle up to 200 requests per day.
In December 2020, a new psychological support unit was integrated into the call center. Teams from the Lebanese organization BeBrave were trained by the NGO Terre des Hommes and were able to offer Psychological First Aid as well as Psycho-social and Mental Health Support, giving victims a the possibility to express their emotions. Direct contact with psychologists or psychiatrists was also offered if necessary. These calls were essential for the victims of the explosion and more generally for the inhabitants of Beirut, due to the difficult economic and social context.
Thanks to this psychological assistance, they were able to open up and express their feelings in confidence, with professionals who were able to help them overcome this difficult moment. These calls were also essential for BeBrave volunteers, allowing them to work in a more secure and efficient way thanks to the anonymity provided by the calling system used.
End of mission and handover 
TSF teams worked closely with the Live Love Lebanon teams throughout the mission, to ensure that the proposed technical solution was always adapted to the needs, to solve any technical problem and to advise on the evolution of the call center. Once the first emergency phase was over, before disengaging, TSF worked on a sustainable solution ensuring the continuation of the Live Love Lebanon team's activities. 

All the technologies deployed by TSF aim to replace the locally available technological means until they are restored, and to accompany a local humanitarian partner in the perpetuation of the services put in place. Thus, TSF accompanied its partner Live Love Lebanon in the establishment of a long-term technical solution allowing it to continue its activities of distribution of humanitarian aid and reconstruction.
Testimonies 
"Thanks to you, to Live Love Lebanon and TSF. Because you called me two, three times, asking how you could help. I finally found someone who listens to me. I need someone who listens to me. We had a significant shock, I'm stressed, my mother has depression. When you contacted us, we were both very happy. It gives us the force to move on ... You gave me happiness because I finally got an answer, I was touched by the personal attention towards me and my situation, I felt safe" Carla, 49, victim of the explosion at the port of Beirut.
"We would not have had the means to realise it [the call centre] without TSF ... The work is daunting ; we have set up a call centre to contact the people, and this is where Florent (TSF's head of mission in Lebanon) and TSF's expertise were crucial" Edouard Bitar, Founder of Live Love Lebanon.
"What I like the most, is that with all the challenges going on in Lebanon at the moment, I am able to reach someone in distress and help change their day for the better. Through one phone call I am able to connect with another person who might have lost all hope and just need someone to talk to" BeBrave Volunteer.