Security support for humanitarian actors in Iraq
TSF places ICT at the service of the security of humanitarian workers
Context: Conflict
Start date: 16/06/2014
End date: 20/10/2014
Areas of intervention: 6 governorates
Anbar
Dahuk
Diyala
Kirkuk
Nineveh
Salah Ad-Dine
Activities:
Support to coordination
Strengthening security
1 intergovernmental organization supported
1 UN agencies supported
Context
The violent fighting and advances of the Islamic State (IS) in northern Iraq led to massive displacement of civilian populations. According to the Office of the United Nations High Commissioner for Refugees (UNHCR), in June 2014, more than 500,000 Iraqis had fled the violence of the Islamic State, many of whom attempted to reach Iraqi Kurdistan.
While many humanitarian actors mobilised to provide aid to displaced families, providing assistance in Iraqi territory became particularly dangerous. Indeed, humanitarian workers quickly became the target of fighters of the Islamic State. In 2013, 460 aid workers were victims of violence, kidnappings and targeted attacks.
It was therefore essential for humanitarian organisations to have reliable means of communication to improve the safety of their staff in areas of risk.
Although mobile coverage was present along the border between Iraq and Iraqi Kurdistan with several kilometres of penetration in the Iraqi zone, the networks of mobile operators did not allow access to the Internet. Internet connectivity was deliberately interrupted by the Iraqi government in areas controlled by the IS to limit communication channels and to reduce the dissemination of propaganda via the Internet, especially via social media.
Support to IOM coordination
As part of its support activities to NGOs, Télécoms Sans Frontières trained staff of the International Organization for Migration (IOM) in the use of emergency satellite communication equipment to better coordinate their actions.
Four mobile satellite terminals were deployed with IOM rapid response teams in the governorates of Kirkuk, Diyala, Anbar and Nineveh, at the time occupied by ISIS (in orange on the map).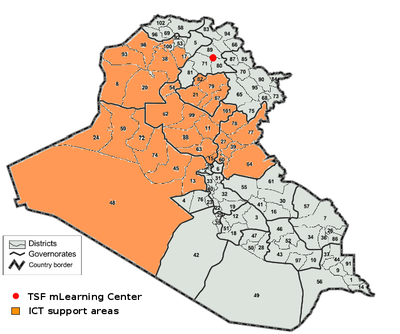 Thanks to these satellite lines, vital data could be transmitted from isolated areas where phone and Internet were not available. The logistics teams could plan and adapt their actions to provide the most appropriate response to help civilians affected by the fighting.
The data transmitted made it possible to:
Locate groups of displaced persons;
Evaluate the urgent needs of these populations in terms of health, hygiene, water, food, shelter, telecoms;
Ensure secure access to areas controlled by the IS to limit security risks.
Strengthening security for humanitarian actors
TSF also worked to reduce the risks faced by emergency responders by increasing their security on the ground. This unprecedented exposure of humanitarians forced them to retreat partially from certain areas that had become too dangerous, as well as to rethink their operational strategy.
TSF provided satellite tracking technology to enhance the security of UNHCR agents during their operations. The equipment allowed agents to:
Know the location of teams in real time;
Trigger a security alert in the event of an unplanned change of route;
Maintain a permanent contact with the teams by SMS;
Report incidents or security risks during convoys.
This support to security provided by TSF, essential for the delivery of humanitarian aid, enabled UNHCR teams and their partners to respond quickly to the vital needs of Iraqis who had fled their homes.