Typhoon Haiyan
TSF supports the rescue teams in the field, as well as the thousands of people affected by Typhoon Haiyan from 7th November to 8th December 2013.
Context: Typhoon
Start Date: 07/11/2013
End Date: 08/12/2013
Areas of intervention: 4 cities on 5 islands
Tacloban, Leyte Island
Guiuan, Samar Island
Borongan, Samar Island
Roxas city, Panay Island
Busuanga Island
Activities:
Support to coordination
Humanitarian calling operations
Humanitarian Internet centre
UNDAC support
30 organisations supported
17 municipalities supported
6 centres for coordination
21,6 GB data transferred
11 380 minutes of calls
5 100 families supported
Context
On 8th November 2013, the Philippines were swept by Typhoon Haiyan, the most powerful cyclone ever recorded since weather records exist. Relentless winds of 295 km/h lasting 24 hours, with peaks of up to 360km/h, devastated whole islands of the archipelago, including the regions of Leyte and Eastern Samar.
The death toll reached 7,350 and more than 4 million people were displaced in addition to enormous material damage, including more than a million homes destroyed. The coastal city of Tacloban, capital of Leyte Island, was totally devastated with a destruction described as "massive and unprecedented" according to UN Emergency Relief Coordinator, Sebastian Rhodes Stampa.
Deployment
Closely monitoring the progression of the typhoon, Télécoms Sans Frontières pre-positioned a team from its headquarters and Asia Pacific Regional Base in the capital Manila.
Thanks to its partnership with the United Nations Disaster Assessment and Coordination Team (UNDAC), TSF was one of the first responders in the field.
Upon arrival, TSF implemented telecom assessments as well as telecom centres to generate a coordination hub to the service of the other NGOs present, with the support of European Civil Protection and Humanitarian Aid Operations (ECHO).
Support to international and national coordination
Upon arrival in the affected regions, TSF installed three telecom centres in Tacloban. The first was for the National Disaster Risk Reduction and Management Council (NDRRMC) and the Ministry of Telecommunications, the second was used by UN agencies (OCHA, WFP and UNDAC), and the third for all other humanitarian organisations present in the field. These centres were essential for all humanitarian operations.
The Ministry of Health officially requested that TSF provide an internet connection in Tacloban hospital to meet vital medical needs. The satellite internet connection allowed doctors to coordinate with rescue teams nationwide to provide faster medical assistance to victims.
TSF also donated ten satellite lines to the ten most affected municipalities in Eastern Samar. These lines allowed towns to remain connected with local and international authorities in order to benefit from better on-site coordination. Local staff benefited from training provided by TSF to be able to use the equipment. Thus, they were able to ensure the continuity of telephony interventions in complete autonomy.
Two TSF teams were deployed on the Busuanga and Panay Islands to provide both technical and material support to UNDAC teams through the provision of satellite equipment and phones. Evaluations were conducted in various hospitals and at a refuge centre located in a military base.
Finally, TSF installed two other connections in Guiuan (the second most affected city) and Borongan, on the east coast of Eastern Samar, to the benefit of a second UN On-Site Operations Coordination Centre (OSOCC).
As a result, all the NGOs present had access to a coordination centre from which they could send and receive all the necessary information about their operations, enabling them to work as effectively as possible with the millions of people affected.
Thanks to its connections across six coordination centres, TSF supported over 30 organisations (including UNDAC, NDRRMC, OCHA, ECHO, ACF, ACTED, UNICEF, Save the Children) with more than 21.6 GB of data transferred.
Humanitarian Calling Operations
In collaboration with the local operator SMART, TSF conducted telecom assessments, and it appeared that their mobile network would not be fully restored for two months. TSF organised calling operations to allow local the population to reconnect with the outside world.
As the coastal areas were most affected, TSF teams deployed in the 17 municipalities along the Leyte and Eastern Samar coasts to provide calling operations. More than 5,100 families benefited from priority calls to inform their relatives of their situation and needs.
TSF teams met Junel, a 7-year-old boy, who brought a phone number on a piece of paper. It was the number of his father working in Manila. His mother worked in another city in the Philippines. When the typhoon cut off the telecommunications, the family had no way to get in touch. Thanks to TSF, the little boy and his father, who both thought each other were dead, finally spoke for the first time in a month.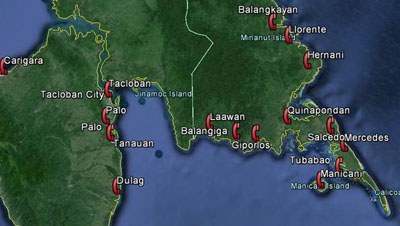 Humanitarian Internet Communications Centre (HICC)
TSF aimed to respond to the needs of the affected population by opening its first-ever Humanitarian Internet Communications Centre (HICC) in Guiuan. Thanks to ECHO's support for this innovative initiative, TSF offered beneficiaries the opportunity to stay connected to the outside world and communicate with their loved ones.
With an average of 80 users per day, the centre provided free internet access via a high-speed satellite connection. Ten users could connect simultaneously and thus have access to all the means of communication and information offered by the Internet: news sites, mailboxes, social media, telephone calls over IP, etc. In total, 392 people benefited from the services of the Guiuan Internet Center.
End of mission
From 29th November to 5th December, SMART recovered full service across Leyte and East Samar. With one of the two main local operators being operational again and the connections of the OSOCC centres to Tacloban and Guiuan handed over to the Emergency Telecommunications Cluster (ETC), TSF was able to withdraw from the country on 8th December, leaving the VSAT connection for NGOs in the offices of Plan International in Borongan.