As vulnerability and instability reigns across Syria, children remain the primary victims of this civil unrest, which is now in its 4th year. Over 4 million people have been uprooted as a result of ongoing insecurity, almost half of which have sought refuge across the border in Turkey. The number of displaced people and refugees on the Syria/Turkey border and in Turkey itself is at a peak, with an influx of 1.8 million people since 2011.
To respond to the educational requirements of the children who have fled their homes, TSF put in place 4 mLearning centres starting in the Al Salama IDP Camp, Syria and a school for Syrian children in Gaziantep. Two further structures were opened in February of 2015 in A'zaz, Syria and within a second school in Gaziantep.
At the end of the school year 2014/2015, TSF has registered a total of 1,621 Syrian refugee children in its mLearning programme each month.
This year, the TSF mLearning programme has focused on particular aspects of Syrian life through cultural sessions, as well as activities surrounding handwriting exercises, English, awareness in child protection issues such as underage marriage, plus activities in the core subjects.
Taking into consideration that the majority of these children have not returned to their hometowns for over 4 years, it is important for TSF to provide a degree of psychological relief through creativity.
In the winter of 2015, a video competition was launched whereby children created a short video using images and music to represent their feelings towards their situation. The winning, and most emotive entrant managed to find images of not only her town, but also her house; both of which, were destroyed.
You can view the winning video via the following link:
In a similar vein, at the end of term, the children were able to create comic strips using the tablets. The following expresses the difficulties and successes in relation to school.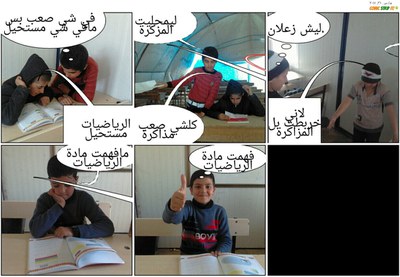 Despite the success of the programme, in May/June 2015 TSF took the decision to temporarily suspend activities and evacuate its centres in Syria due to violent threats from ISIS a matter of miles away from the respective towns.
As our mLearning activities continue to grow, Syrian children are facing a long and difficult summer. Those who have attended TSF mLearning throughout the year can choose to sign up to summer activities in order to pursue their education during the holidays through more informal playful learning sessions.
TSF education coordinators in Syria and across the border in Turkey have put in place interactive summer activities for Syrian refugee children. These activities, as part of TSF's mLearning scheme, take place in A'zaz and Al Salama and in a school for Syrian refugee children just across the border in Gaziantep. The programme has been developed so as to prepare children for the start of the school term in September, covering subjects such as Arabic, mathematics, the sciences and geography.