"I've always enjoyed computer science, technology and challenging myself "
When asked why she decided to become an engineer, Marta replies very clearly that that's always been her passion. "I've always enjoyed computer science, technology and challenging myself to find better solutions. I was very lucky, as my father always inspired that side of me and encouraged me to follow what motivated me the most. I think this is very important, since there should not be any barrier when it comes to discovering and exploring new areas just because of being a boy or a girl. Each one will decide later, but with all the options available in front of him/her."
An engineer in the humanitarian sector
By working as engineer in the humanitarian sector, Marta managed to develop her two passions: technologies and humanitarian aid. "Some years ago I could not have imagined that I would have the opportunity to dedicate myself to both of them. When we think of humanitarian aid, we see doctors, firemen, construction engineers, teachers ... but the need to communicate is also very important. So, for me it represents the motivation to improve and learn in a field in which I have been trained and to be able to do my best so that I can help others."

TSF has helped her make her dream come true, where technical expertise meets strong dedication and passion for helping those in need. "I had some previous experience as volunteer in humanitarian missions and I realised that it was what motivated me the most and what I wanted to do more of it. TSF represents something very important to me: the dedication, the effort and the continuous desire for improvement to provide the best help to the people who need it. A very motivated, dedicated and relatively small group of people manages to achieve such amazing things."   
What about being a woman in this sector? Have you ever been treated differently?  
"So far I've never felt any difference of treatment. I have always been one of the team and I have received help as much as I have helped others when needed. It's true that within the ICT emergency response, I often find myself being the only woman in the team, but it has never been a problem."
ICT specialist at Télécoms Sans Frontières, a very dynamic role…
When we ask Marta what she likes the most about her job, she has no doubts: "It's a challenge and a constant learning." As Head of Mission, Marta is currently focused on TSF's project in Brazil, aimed to offer free phone calls to Venezuelan refugees. This role offers her the possibility to use her technical skills, be constantly challenged to troubleshoot unexpected problems and work in an extremely enriching environment. "It's very dynamic, there are a variety of issues that we need to deal with (not just technical ones) and it helps you to improve a wide range of skills. In field missions, you have the opportunity to work with different people, from different countries and cultures."

"My role is mainly technical, to be able to deploy the solution and make sure that everything is working and that we do our best to assist the affected population. There is really a lot of hands-on, to adapt our solutions to the constraints of the field." But on mission with TSF you have to be able to do anything "once you are on the field, you have to do a little bit of everything: coordination, communication, supervision, administration... All your skills are put in place."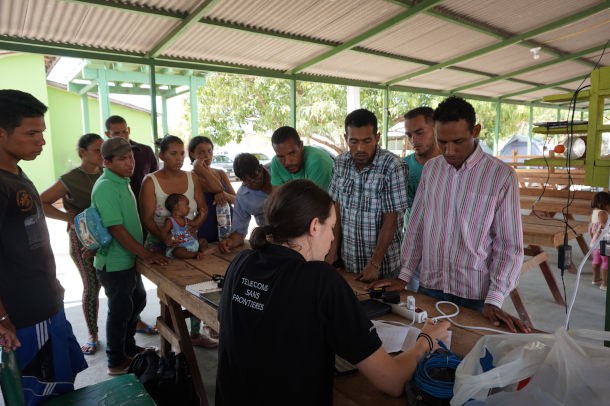 …with a strong emotional component
Beside the technical and professional sides, when on mission with TSF there is always an important human component. "We were attending calls in the Reference Center of Boa Vista and one Venezuelan woman came to call. It had been 6 months since she last talked to her mother and needed to tell her that she had well arrived to Brazil and that she, and her kids were fine and had found a place to stay. After several attempts to different phone numbers she gave to us with no response, she gave up and left. We continued trying to reach her mother or someone that could contact her until he finally made it. At that moment, everyone mobilized to find the woman. We found her, she was about to leave the building, she came running and finally got to hear her mother's voice. Everyone was so happy!"
An advice for girls and young women interested in an IT career?
Finally, Marta's advice is very simple, and a reminder that we should all do our part to ensure anyone, no matter what their gender is, has the possibility to pursue their dreams. "If that's what motivates them, they should just go for it. The most important is for all of us to provide them with the necessary tools and the tolerable environment, so they are not afraid to take the step. They should be confident on their abilities and not feel pressure to be better than men, they just have to be themselves."