A "Civic Service" is a system set up by the French State that allows young people to commit themselves "to serve the public interest". This can take many forms, including volunteering in an NGO, like the young people we welcome at TSF.
They can come for a variety of missions, and sometimes, even stay ... For Emmanuel, everything started in 2012 with the Civic Service and now, he is the Coordinator of projects for our European base! "After a few years in a radiocommunications company, I wanted to put my skills at the service of people in need. TSF allowed me to meet and discover the humanitarian sector; today I have the chance to develop projects where the technique is a lever allowing people to improve their daily life in difficult contexts, and that rejoices me and motivates me enormously."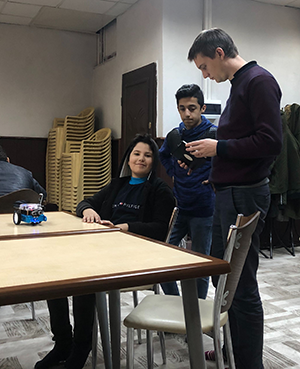 This year, we welcome Olive and Naomi who are part of a reciprocity project called SESAME, set up by the French New Aquitaine region and coordinated by Cool'eurs du Monde. This allowed Olive, who was already a volunteer in our IT Cup centre in Madagascar, to come to our headquarters in Pau, France, for a Civic Service. Naomi, originally from this region, left for Madagascar on December 5 to discover this same centre and work there. We asked them what motivated them to do a Civic Service and why they chose us.
Olive, 22 years old
"I chose to do an International Civic Service mission because it allows me to engage in missions of general interest, to participate in an enriching experience and to know what my limits are without my family (of what I am capable of). I wanted to go abroad, not just to discover the country and its cultures, but for a specific project: to contribute to the development of my region thanks to the reciprocity between my partner and me."
"I chose the mission within Télécoms Sans Frontières to know how communication works in an NGO, also because I intend to resume my studies in the field of communication. It is therefore a good opportunity for me to know in advance what awaits me and to take advantage of it to discover different communication tools."
Naomi, 24 years old
"I decided to go to International Civic Service because it was an ideal opportunity for me to reconcile my travel desires and my wish to embark on a development project abroad. My goal is to enrich myself personally and professionally – in France I worked in the social sector – through moments of discovery, exchange and learning."
"I chose to go on a mission proposed by Télécoms Sans Frontières because I am sensitive to social, educational and cultural issues related to youth. The training week I spent at TSF only confirmed my motivation and I am now delighted to be able to live this experience."
In addition to being a real added value for TSF, these commitments are above all stories and shared experiences. Sometimes, it is even possible that these experiences are transformed into wonderful collaborative projects to better meet the needs of our beneficiaries.