Protection and assistance
Nepal
Post-earthquake mHealth - Epidemic detection
Development and implementation of a mobile medical data collection system to improve and streamline the exchange of information.
Context: Earthquake
Start date: 22/06/2015
End date: 14/08/2015
Areas of intervention:
Sindhupalchowk district
Town of Sukute
Activities:
Mobile data collection system
Satellite connectivity
4 medical teams
14 villages
7,422 consultations
2,367 cases detected
40,000 beneficiaries
Context
On 25th April 2015, Nepal was hit by its strongest earthquake in more than a century, measuring 7.8 on the Richter scale, which claimed the lives of over 9,000 people. Some weeks later, on 12th May, a second earthquake of magnitude 7.2 shook the country again, causing further landslides, ripping off houses and blocking roads.
Situated between China and India, this landlocked country has one of the world's most complex geographies, and the already underdeveloped Himalayan road infrastructure was further weakened by rockslides brought about by the earthquakes.
It is estimated that 70% of the country's infrastructure was heavily damaged in the quake and over 80% of health facilities.
Mobile doctors worked for months following the earthquakes, travelling from village to village to assist the infirm and arrange for the most serious cases to be lifted out of their communities into field health facilities.
With the monsoon season fast approaching, it was vital for the medical community to work on the mitigation of epidemics that are carried and spread with the waters.
Implementation
Télécoms Sans Frontières deployed its teams to Nepal to respond to the first emergency and provide communication means to both humanitarian actors and the affected population.
It rapidly became apparent that the response to this crisis would go beyond the emergency phase, particularly because of the steep terrain making access to the most remote areas difficult. After several weeks of emergency response, TSF focused its efforts on building projects to improve health services in these remote areas through the use of mobile solutions.
The NGO Médecins du Monde (MdM) set up mobile health teams in one of the most affected regions, Sindhupalchowk, to respond to the emergency in the villages that had become inaccessible following the numerous landslides. The teams first travelled by helicopter and then pursued on foot to offer medical consultations and treatments. Once the work was done, daily reports were sent to Kathmandu so that the data could be entered into a database and then analysed to detect potential outbreaks.
Before the intervention of TSF, these reports were put transmitted by telephone calls leading to delays and inaccuracies. In addition, many of the communities of intervention were in out-of-coverage zones and teams were not always able to deliver reports in a timely manner.
TSF developed a mobile data collection system to facilitate the work of the health experts by making the exchange and analysis of information faster and more accurate. A data collection application developed by TSF was installed on smartphones to allow doctors to send their reports from the most remote areas via satellite communications.
Training sessions conducted by TSF's mHealth experts were held in Kathmandu and Sukute. Teams of mobile physicians were trained not only to use this mHealth system, but also on the satellite communication equipment required to send the daily health reports in the absence of mobile networks.
Once trained, these teams of doctors left for the Sindhupalchowk region and focused their operations around the 14 most affected villages. Their field presence ranged from one day to one week, with an average of 250 to 500 consultations per day.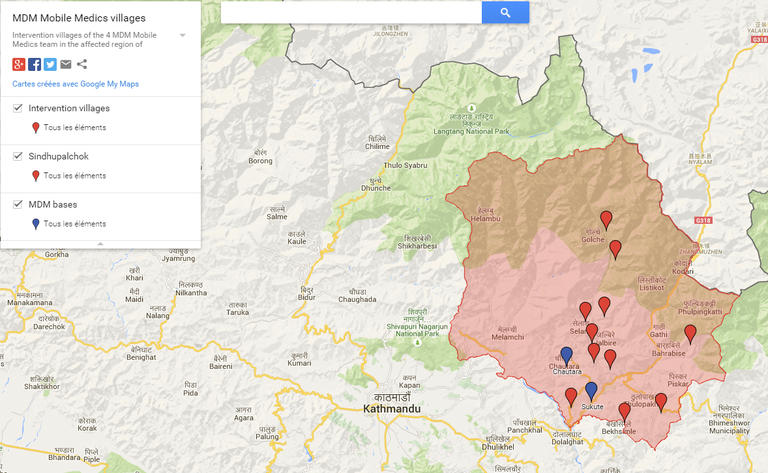 Following the numerous interventions of the doctors in the field, the data collected were then automatically transmitted to a centralised database. In a single click, Kathmandu surveillance teams were able to update their statistics and medical data tables.
These data were then transformed into quantitative analyses according to the criteria of the World Health Organization (WHO) and thus making it possible to determine the priority areas most vulnerable to potential epidemics.
Thanks to this system, more than 40,000 people were spared of the epidemics that swept the region during monsoon season.