"We were aware of the situation in Venezuela and all the difficulties that the population was facing" recalls Marta Moreton, Head of Mission in Brazil, "we tried to get in contact with local organisations to assess the needs of the migrant population arriving in the north of Brazil. It was difficult to get accurate information, as the aid in this region was not as developed as it is now and there weren't many humanitarian actors from which we could get precise information."
 
In April 2018, TSF therefore decided to go on site to carry out its own assessment. "When we arrived in the field, our feelings were confirmed: many migrants had lost or sold their phones, others had been robbed. For those that still had some device to communicate, they had problems to pay the high costs to call Venezuela."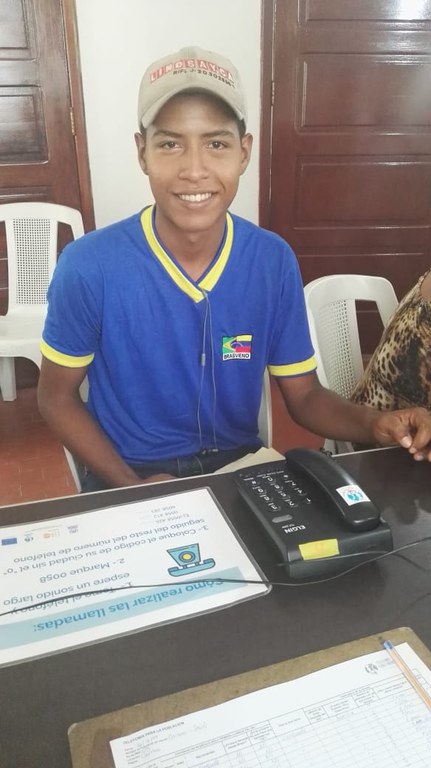 A year later, Yirxon's testimony reaffirms the urgent necessity of TSF's mission. "My dad has been living in Boa Vista for 6 months and the only thing I had from him was the phone number of the company where he works." Says this 21 year-old young man who travelled alone to find his father. Thanks to the service provided at the TSF Emergency Call Centre he not only managed to find him but he also got a new job. "I called the company and they told me that my father was there. The manager also offered me a job!"

"The emotions that people show when they call their families is something that really touched me." Continues Marta. But what really marked her were all the testimonies that they shared with her about their journey from Venezuela to Brazil, why they had to leave the country and all the issues they have faced.

Since April 2018, thousands of stories like the one of Yirxon have been possible thanks to the work of TSF in the region. In close collaboration with UNHCR, the 18 Emergency Calling Centres set up in the cities of Boa Vista, Pacaraima or more recently Manaus, have enabled TSF to conduct close to 850 Humanitarian Calling operations. An opportunity for these refugees and migrants to contact their families, seek for work, or to carry out the necessary administrative tasks for the regularisation of their situation.

After the recent political crisis in the country, the situation is far from improving and the situation of Venezuelans in and out of their country is still unstable. One year after the beginning of TSF's mission, the need for Emergency Calling Centres undoubtedly remains...