The centre allows the coordination of relief operations in the surrounding zone, between the Sofala and Manica provinces. It covers an area inhabited by nearly 1,500 families, representing over 8,000 people who are receiving humanitarian support, including food, medical assistance, shelter and tools to help them recover from the disaster. The centre also provides food to two camps nearby, hosting a total of 1,800 displaced people.

"Now I will be able to send my messages much faster and it will be much easier to coordinate the team. This is time saved to do more things!" Mike continues. When responding to humanitarian emergencies, rapidity is of paramount importance. Thanks to TSF's connection the 25 volunteers working at the centre from different international organisations (including Team Rubicon, ICRC, COSACA, SOS Attitude, UK AID and Convoy of hope) are able to enhance and speed up their emergency response.


In the same area, TSF teams also conducted humanitarian calling operations. Gilo, 29, had to climb a tree to escape the floods. Displaced with his wife and his 2 kids in the Matarara camp, he lost his phone while escaping the floods. Thanks to TSF he managed to finally call a friend living in Chimoio, 100km north of the camp, through the only number he could remember. The relief of the call was so important for him that he didn't hesitate, right after his call, to get involved and help others to contact their relatives through TSF satellite phones.

In parallel, another TSF team has been active since last Saturday in the Buzi area, one of the most devastated zones still isolated and reachable only by helicopter, a few kilometres west of Beira. Here, TSF installed a satellite internet connection to the benefit of the humanitarian actors and carries out calling operations for the population in Buzi and Guara-Guara (6km north of Buzi). Over 700 people in this area benefited from TSF operations in just three days.

The disaster claimed over 500 lives and cholera cases already affected over 1,000 people. TSF thus continues its mission to ensure reliable telecommunication means are in place for the affected population and the humanitarian actors, including through the satellite connection for humanitarian coordination installed since the beginning of the operations at the Beira airport.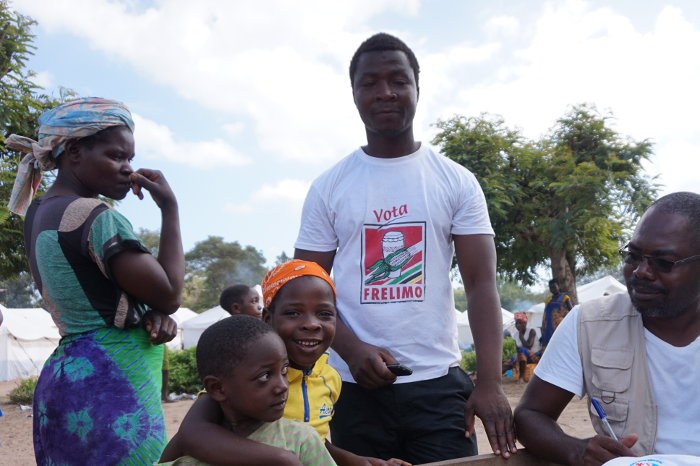 Gilo, beneficary of TSF humanitarian calling operations in Matarara