For over a week, Télécoms Sans Frontières (TSF) has been providing them with the possibility to contact their families through ambulant humanitarian calling operations. In some of the poorest areas of the city, the consequences of the cyclone and the floods have been particularly harsh. 12 sites have already been covered by TSF operations, including 8 schools hosting over 2,000 displaced people.

Thanks to these operations, Elena, 33 years old, displaced with her 6 family members and her sick kid, managed to contact her relatives living in Chimoio, 200km north of Beira, for the first time after the disaster. Thanks to TSF, Guida finally managed to talk to her daughter who lives in another affected area. Guida now lives in one of the schools serving as refuge for those who have lost their house. She called her daughter not only to check if she was alive but also to ask for help, since she doesn't have food and doesn't know where to go or what to do.

You know that a cyclone hit the region where your family is living, but you cannot reach them to know what happened to them, you don't know if they are alive, and there's nothing you can do. In such situation, every hour, every minute becomes an unbearable burden. Hearing again the voice of your loved ones, knowing they are safe, that they made it, becomes an invaluable relief.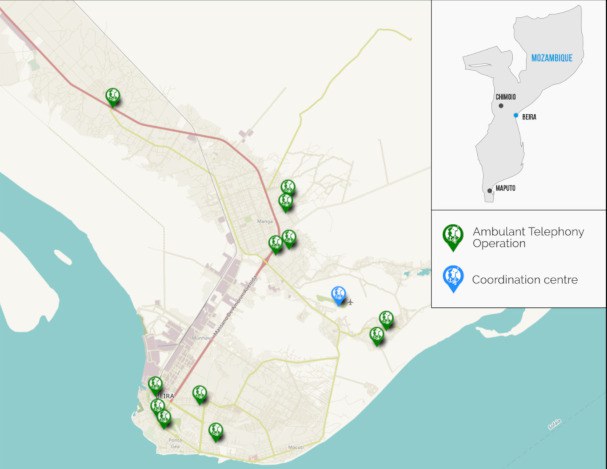 TSF continues also its support to the humanitarian coordination through two satellite connections installed at the operations centre set up at the Beira airport. Considering the very difficult situation and limited information on the affected areas, this connection allowed emergency response teams to coordinate their operations. Since alternative telecommunications means are now available, TSF will move one of the two satellite connections for its activities in support of the population.

At the coordination centre, 83 humanitarian organisations have been connected, including at least 7 UN agencies, over 10 governmental agencies and tens of local and international NGOs, Over 460GB of data have been exchanged, with nearly 1,000 devices connected.

The impact of Cyclone Idai has been catastrophic: in Mozambique alone, over 1.8M people have been affected and 129,000 displaced. With over 1,500 injuries and 447 reported deaths, the country has suffered the most severe consequences of the cyclone. In this context, while continuing the support to the humanitarian coordination and the ambulant calling operations in Beira, TSF teams already started to assess the telecommunication needs in the areas between Beira and Chimoio and foresee calling operations as well as the installation of satellite connections in the Buzi and Dombe areas, west of Beira.